expression front is a collection of small audial 'issues', consider them structured pieces, which reflect experience and ambience @ communication front 2001 in plovdiv, bolgaria, as percieved by loosebot throughout a week and a half of theoretical and practical daily meetings and workshops with fellow artists from around the world.
many thanks to saso vrabic (whose photos were used for covers), jane brake and rupert francis (whose recordings were used), dimos for great thinking and discussions, aleksander for incredible feeling and atmosphere which embraced us while in your company, steve for calm and charming mind and all the participants of cfront 2001.
everything copylefted. no hierarchy. eclectic zenarchism.
(note: one of the mp3 files is not yet online - coming soon)
---
exfront 001 [06.06.01]
(communcation front expression issue no.01)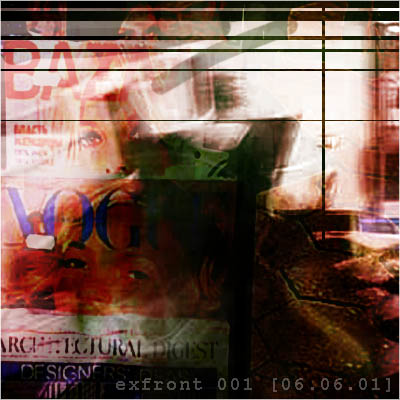 ::[ to establish a bridge with real world. with real public. escaping the closed realms of art world. breaking rules of bordered content and practices established art world uses. connecting us with them. so they become us and we become them. so that we and they understand we are them and they are us. but before that we circle in closed elipses of obsolete habits. trying to grasp the idea of constructing mechanisms to reach and contact real life. it might happen that we use the barbecue as a form. as a content. it might happen we touch the right buttons, smartly predicted, and our clashing in dark transforms into colourfull flower of communcation. but what about tech-age? ]::
download (128kbps stereo mp3, 6.8mb)
---
exfront 002 [07.06.01]
(communcation front expression issue no.02)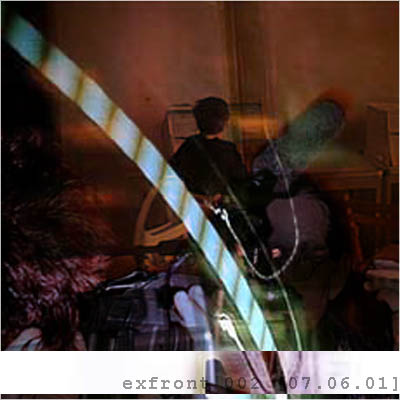 ::[ art form needs rhytm. rhytm becomes a medium. content of communcation is our sadness of everyday life. our dislocation of isolation even more far although we constantly reach back to get more contact. closeness of time and experience has to be removed. we construct mind conceptions of common high knowledge: everything is an illusion, but yet we don't realize trully how really unreal is "real" life. while changing points of view is oh! so easy, seeing those few absolute things is still an area of innocence and age of freedom. the only age. the only true life. the only true self. ]::
download (128kbps stereo mp3, 6.9mb)
---
exfront 003 [08.06.01]
(communcation front expression issue no.03)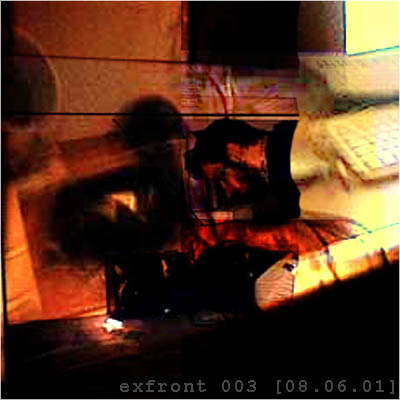 ::[ the field of energy which provides the platform of creation may take infinite forms. however, some of them may be much harder to use and 'exploit' as base, resource or medium. power needs to be respected in any case. while working with it, while using it, while overcoming it. like nature. our history is history of dialogue with nature and power. it is a fact that most of us are still not ready to accept the eternity of power. although we still constantly provoke this field of infinetely mysterious and unknown knowledge hiding in the echoes of universe. ]::
download (128kbps stereo mp3, 6.9mb)
---
exfront 004 [11.06.01]
(communcation front expression issue no.04)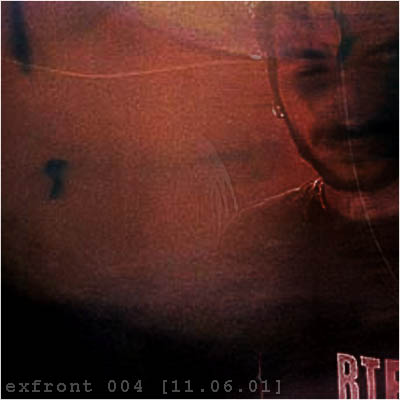 ::[ - memory] [adjustment] [travel] [dynamic vs. static] [content] [emotion] [unuser disfriendly] [contact] [touch] [sleep] [work] [iloveyou] [joy] [exclusion] [recordings] [we love you] [shooting] [closeness] [private public] [nonsense] [war] [poverty] [distance] [blindness] [numb] [disclosure] [extrovert] [fake] [internal] [creativity] [dead] [incorporated] [subconscious flow] [process] [medium] [equality] [insomnia] [words] [community] [images] [concept] [contents] [execution] [individuality] [random vs. preprogrammed] [critique] [discussion] [lost] [nonintuitive vs. intuitive] [game over] [interfaces] [goodbye] [memory - ]::
download (128kbps stereo mp3, 8.5mb)
---
exfront 005 [12.06.01]
(communcation front expression issue no.05)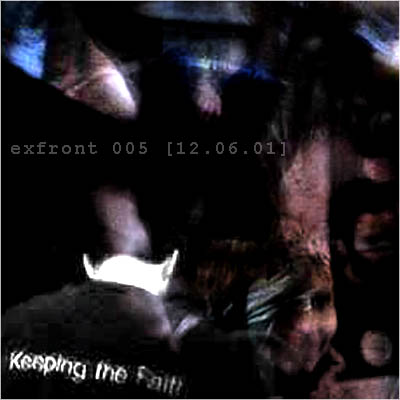 ::[ crash of subjects subjectivity subjecting the object follows indefinite patterns of communication creation exploitation manipulation distortion babilonian society personal backgrounds of earthmen earthwomen pushing eachother to produce move explore change run hide lurk fight love emotion in dimension of isolation borders closeness touch skin body mind soul divinity ]::
download (128kbps stereo mp3, 6.3mb)
---
exfront 006 [13.06.01]
(communcation front expression issue no.06)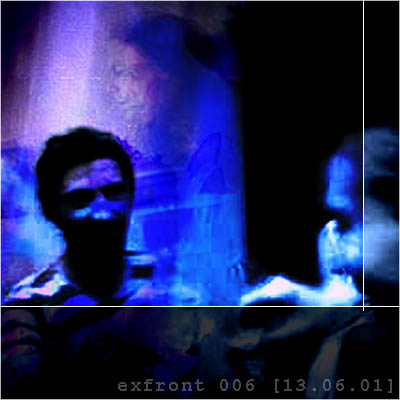 ::[ epilogues of lightweight etheric entities wrap up as we shake hands, hug arms and kiss cheeks. tears in many forms and interfaces shake body, make us suffer and smile in same moment. destruction and creation join hands when we split as we don't split. ever. forever. till the end of days. ]::
download (128kbps stereo mp3, 7.4mb)
---